From the Rainforest to the Classroom
I had to leave the jungles of Borneo, as well as our on-going clouded leopard project within 24 hours and return to Germany with the last plane. Covid-19 had also reached the rainforests of Malaysia and put the country into lockdown. Fortunately for Nepada Wildlife, despite my abrupt departure, I was able to leave some financial help behind on the jungle island. Thanks to your supports, we were able to donate 2,500 Euros to the Bornean Carnivore Program for the protection of clouded leopards in Sabah, Borneo, and also the little baby gibbon is – thanks to the many donations from Germany – still well taken care of.
Curfews in Malaysia have already been relaxed somewhat and locals are allowed to go outdoors again. Foreigners are still not allowed to enter the country. International research projects are on hold. Species conservation faces a major challenge. Ecotourism has come to a complete standstill and national parks and conservation projects lack income. We have also had to cancel our expedition to the Tenharim Indians in the Amazon rainforest, which was planned for next fall. This pandemic poses a massive threat, especially to the indigenous tribes, who have hardly any access to medical care.
In addition to our concrete activities in species conservation, environmental education is an important statutory purpose of Nepada Wildlife. With workshops at numerous schools, lectures at educational weeks such as Wetter.Wasser.Waterkant. or the Hamburg Climate Week and talks at evening events, we bring the rainforest to Germany. After all, not everyone has the chance to spend three months in the jungle with wild animals.

A particularly beautiful afternoon at the beginning of 2019 at a Hamburg Elementary School comes to mind: I'm sitting on the ocher-colored floor, with twenty children around me, looking at me with wide eyes, spellbound. I am just telling them about my first personal encounter with a four-meter-long crocodile in the wild. The excitement among the children is palpable. One girl, around ten years old, holds her face in her hands in fright. Her desk-mate stares open-mouthed at the prehistoric predator in the photo: a massive groin crocodile just pushing its way out of the water. Its pointed rows of teeth flash. I took the photo three years earlier during my research trip to Borneo. It's an afternoon of adventure, species conservation, and animal guesswork. It's about the problems of rainforest deforestation and our own consumerism. We talk about the pollution of the oceans and the threat to animals and humans, and it fills me with hope to see the way children are so deeply interested in these topics. Especially in such moments, I feel that we are on the right track with Nepada.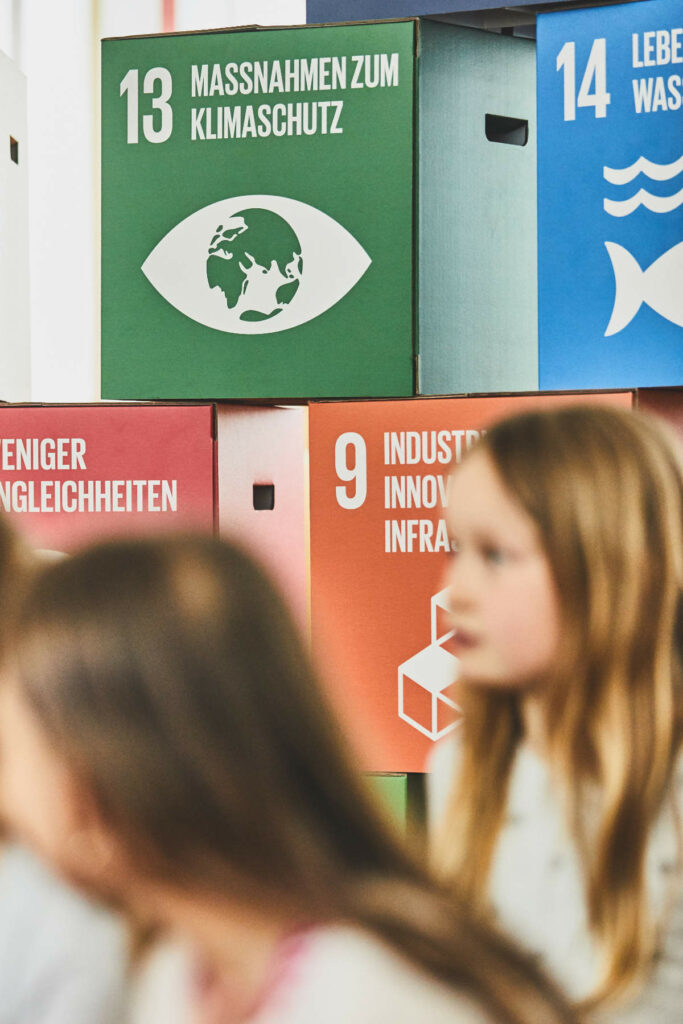 In parallel to Nepada's proven educational offerings, we continue to develop. We have used the lockdown to expand our team and extend our educational mission in Germany: In September, our development education project "From the Rainforest into the Classroom – Think Big, Act Local, Act Global." will start. In order to reach students and teachers at home in times of Corona, we are developing innovative educational materials to educate them about the importance of biodiversity in a playful way. To do this, we utilize digital media and gamification. By using virtual and augmented reality, we offer children and young people emotional access to the global issue of sustainability. At the core of our work are the global Sustainable Development Goals (SDGs). We promote the examination of the guiding principle of sustainable development and encourage the students to recognize, critically question, and evaluate global complex interrelationships. To this end, we work closely with the non-profit association The Turquoise Change and the ESD Expert Net. This ensures a lively exchange with experts of the ESD Expert Net from India, South Africa, Mexico and Germany.
In the next months, we will work intensively on the conceptual design and development of the augmented reality tools for the classroom and in January 2021 we will start with the test phase at schools in Hamburg to enable an implementation in the curriculum. So, if you and your classmates are interested, feel free to contact us! We would like to further strengthen our statutory purposes §2(c) "public representation and dissemination of the ideas of nature and environmental protection and sustainable development through environmental education measures" as well as §2(e) "information and further education on the issues of nature and species protection in Germany, as well as in the project countries", and have supplemented our competence team with experts from the fields of Education for Sustainable Development (ESD), environmental education and science: Welcome Prof. Dr. Ulrich Gebhard (Didactics of Life Sciences, University of Hamburg), Katarina Roncevic (ESD Expert, The Turquoise Change e.V.) and Eric Peters (Creative Technologist)!